Mission Statement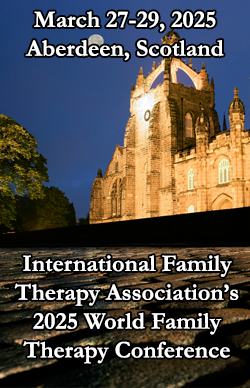 The cornerstone of every society is the family. With the support of its members, the International Family Therapy Association (IFTA) provides international conferences to promote, strengthen and improve the quality of family therapy, the quality of relationships within families and to promote well-being and peace within our world.

IFTA, working in a collaborative spirit with other professionals and organizations around the world who share its mission, also promotes continuing education in the development of quality standards for marriage and family therapy for professionals performing family therapy in order that they may better assist families in the communities in which they serve.
Benefit to Members
As a member of IFTA you will receive a subscription to the International Journal of Systemic Therapy . This is the official journal of IFTA and is sent to you as part of your membership fee and his available online as well.
The online International Connection newsletter provides you with updates about the organization and additional articles written by members worldwide.
A new Members Only Systemic Therapy E-News is sent quarterly highlighting interviews with therapists, news, and research in marriage and family therapy.
The Congress E-News contains World Congress updates is issued quarterly to all individuals  who have ever attended a world congress.
A special World Congress discounted registration fee is available every year for members attending the annual World Family Therapy Congress. Networking is one of the highlights of an IFTA Congress; many Congress attendees have said, 'the best networking congress ever!"
An IFTA Member Directory is available to members only.

Joining IFTA is easy. Complete the application online or request an application by email. Become part of IFTA today!
Officers and Board of IFTA
The International Family Therapy Association has a distinguished Board of Directors and officers, all leaders in the family therapy field in their respective countries and recognized around the world.

Click here to meet your Board and officers.